Overview
Natural Resources Wales is responsible for the sustainable management of the publicly owned woodlands and forests of Wales. They are managed for the benefit and well-being of the people who visit them and depend on them for their livelihood. This responsibility includes improving their biodiversity and long-term resilience to climate change so that future generations will also be able to enjoy the benefits they provide. Every ten years Natural Resources Wales reviews the long-term management plans for each forest area. These are compiled in a new Forest Resource Plan.
The Mawddach and Wnion Forest blocks (total area 751ha) are situated predominantly along the Mawddach estuary, to the north of the village of Llanelltyd and scattered along and around the Afon Wnion around the town of Dolgellau and the villages of Llanfachreth and Brithdir. The largest and most visible block is above Llanelltyd but other important areas are Bont Ddu and Coed y Garth. All the areas are within the Eryri National Park.  These areas together make up the Mawddach and Wnion Forest Resource Plan: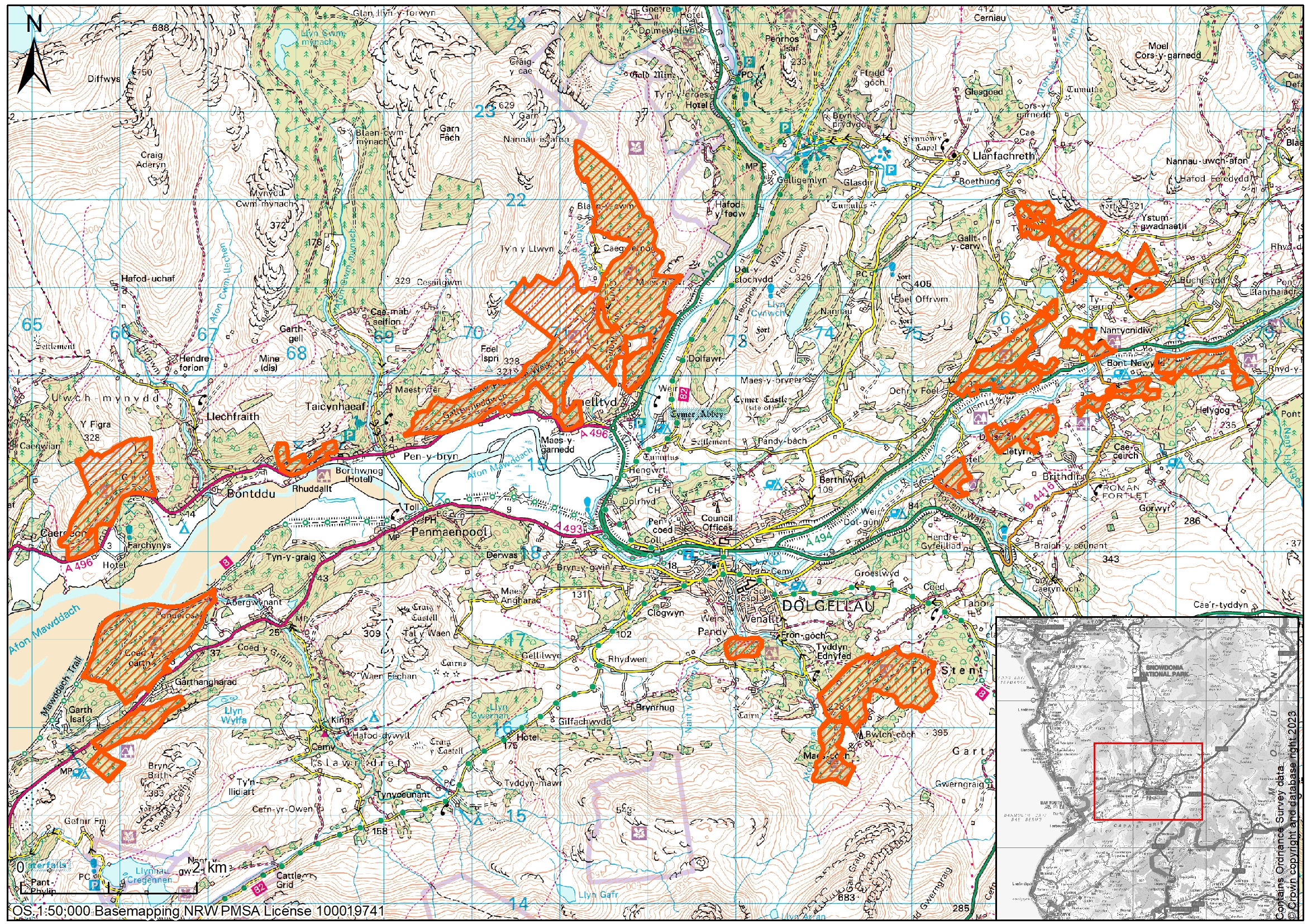 All the Mawddach and Wnion Forest blocks are situated within Eryri, Snowdonia National Park which is also the relevant Planning Authority. Visually, several of them are quite dominant and important in the landscape, Llanelltyd block is by far the most important visually but also Bont Ddu and Coed y Garth are in quite prominent positions in the Mawddach estuary.  All the smaller blocks also have some visual importance.
Regarding the local setting, all of the forest is within the Afon Mawddach water catchment, mostly to the north and south of the Mawddach estuary but also close to the Afon Wnion close to the villages of Brithdir and Llanfachreth. The Llanelltyd woodland is behind the village of Llanelltyd and rises up to near the summits of Y Garn and Foel Ispri, and is highly visible from the town of Dolgellau, the main A470 trunk road, Cadair Idris and many other locally important walks and viewpoints within the estuary area.
Below is a link to the summary of objectives for the plan:
Summary of Objectives for Mawddach and Wnion Forest
This document helps to explain some of the categories shown on the maps below:
In addition to this on-line survey, a drop-in session will be held at Glan Wnion Leisure Centre, Dolgellau, LL40 1LH, on Wednesday the 29th March 2023 between 2pm and 7pm to allow members of the public and stakeholders the opportunity to discuss the Mawddach and Wnion Forest Resource Plan in person with NRW forest planners.