Overview
Natural Resources Wales (NRW) is responsible for the sustainable management of publicly own woodlands and forests of Wales known as the Welsh Government Woodland Estate. As well as providing a valuable timber resource, they are managed for the benefit and well-being of people and local communities who visit them, as well as people who depend on them for their livelihood. This responsibility includes safeguarding their long-term resilience in relation to the nature and climate emergencies,  so that future generations will also be able to enjoy the benefits that they provide. Every ten years NRW reviews the long-term management plans for each forest area known as a Forest Resource Plan.
Currently NRW is reviewing the Forest Resource Plan (FRP) at Newborough. The FRP covers 952 hectares of land between Newborough Warren, Malltraeth Estuary and the village of Newborough on Anglesey.  As well as the forest, Natural Resources Wales' responsibilities include the adjoining National Nature Reserve (NNR) of Newborough Warren, Newborough beach, the Braint and Cefni estuaries, the marine and fisheries interests, the Cob and Ynys Llanddwyn.  Both the forest and NNR are part of the wider Abermenai to Aberffraw Dunes, and Anglesey Coast: Saltmarsh, Special Areas of Conservation.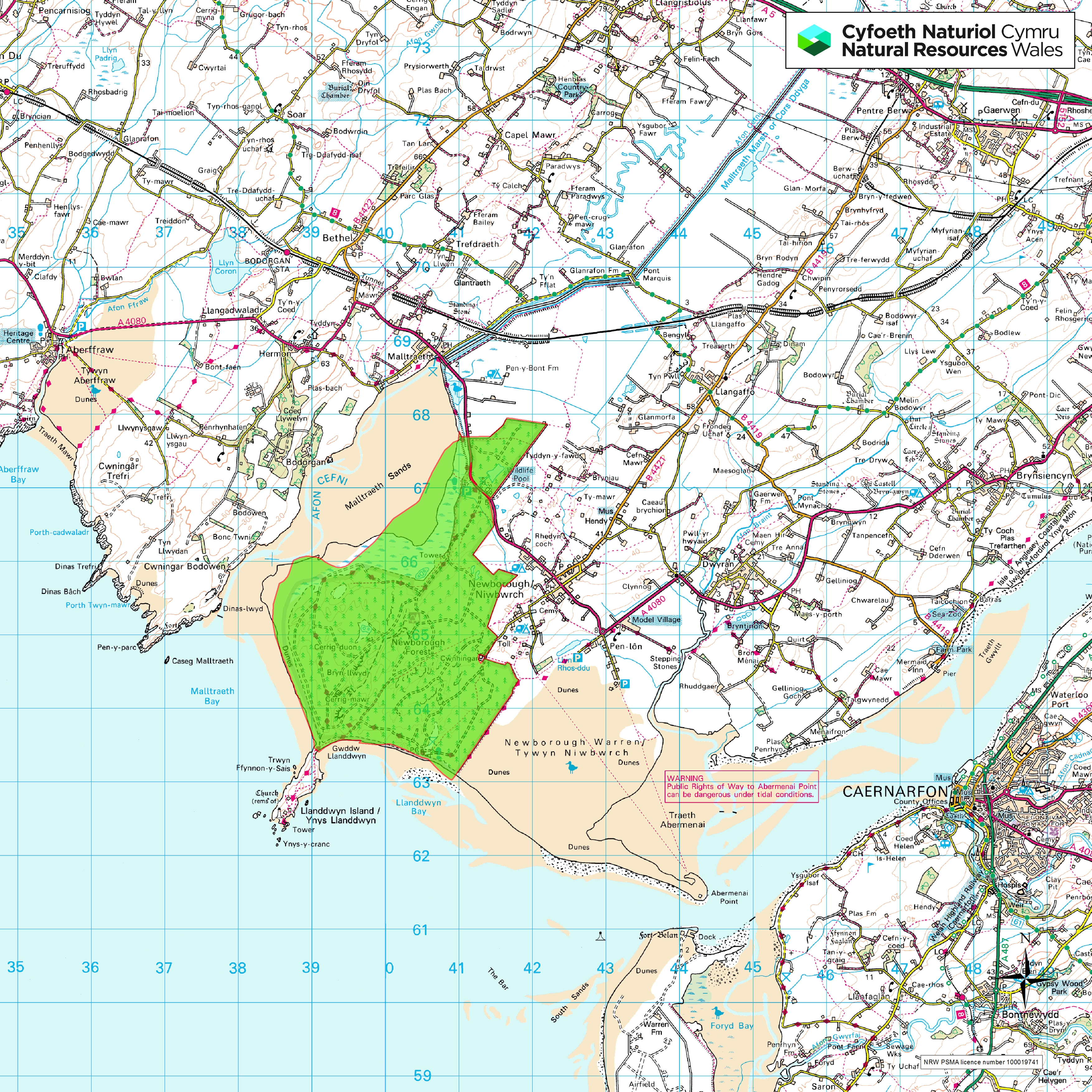 The FRP is one of three really important, and complementary plans that help us manage the land that we own or manage at Newborough. It sits alongside the Core Management Plan for the Special Area of Conservation and a developing People Plan for wellbeing, recreation, access and economy.  These three plans will together help form a wider Integrated Newborough Statement.
Newborough forest and the surrounding area is a dynamic and complex landscape with a number of interacting ecosystems.  As well as an internationally important area of conservation for Sand Dune habitats, the forest at Newborough provides a diverse habitat for wildlife such as Ravens and Red Squirrels. It also provides a unique setting and access to a range of social and recreational activities which benefit the local population and the many thousands of visitors to the site. When planning any future work at Newborough our aim is to balance people's views and aspirations and be a good neighbour whilst taking in the site's many interests and features in an ever-changing environment.
Not planning for the future at Newborough is not an option and we must have a plan to help manage the site. Natural processes are slowly changing the forest to a more broadleaf woodland from the east and eroding the conifer stands exposed to the coast from the west. As well as this natural change, climate change and sea level rise will also have an impact on the composition and distribution of the forest in the long term. The new plan will allow the natural processes to become more dominant across the whole site, whilst making the forest more resilient to these changes. A resilient forest is good not only for nature but for people and will help maintain an important recreational resource and special place for people to visit and its local community.
Below is a link to the summary of objectives for the plan:
Summary of objectives for Newborough forest
This document helps to explain the categories shown on the maps below:
The new plan aims to establish more natural Dune Woodland near the coast which will allow more room for sand dune habitats by the sea. The Dune Woodland will also help to protect the mixed conifer forest behind.  Inland, the mixed conifer forest will continue to be managed to promote a forest habitat suitable for red squirrel and to provide commercial crops, whilst also restoring conservation areas for important species such as Ravens, Great Crested Newts and Shore Dock. These changes will happen slowly, over a long period of time, which will help everyone adapt to the changes over time.  Management decisions made in the FRP will be based on sound evidence and followed by regular monitoring to help guide future management and decisions made at the next FRP review.
If you would like further information about the plans and talk to us in person we will be holding two 'Drop-in Sessions' on:
Wednesday 2nd November 2022, 1.00-7.00pm at Prichard Jones Institute, Newborough, LL61 6SY
Thursday 3rd November 2022, 3.00-7.00pm at Llangefni Town Football Club, Llangefni, LL77 7RP
If possible, please register your interest for these sessions before attending at https://bit.ly/Niwbwrch-drop-in1 or https://bit.ly/Niwbwrch-drop-in2. This will help us to manage the sessions more effectively.