Overview
We're minded to issue a Species Licence (Application No S086266/1) to release a maximum of 6 European Beavers into an enclosure at Cors Dyfi nature reserve located near to the village of Derwenlas, in the county of Powys. The purpose built enclosure on the south side of the River Dyfi, is on land managed by the Montgomeryshire Wildlife Trust.
The map below shows the location of the enclosure boundary that would be covered by the licence. Area covered by the licence (if issued) shown as the blue dotted line.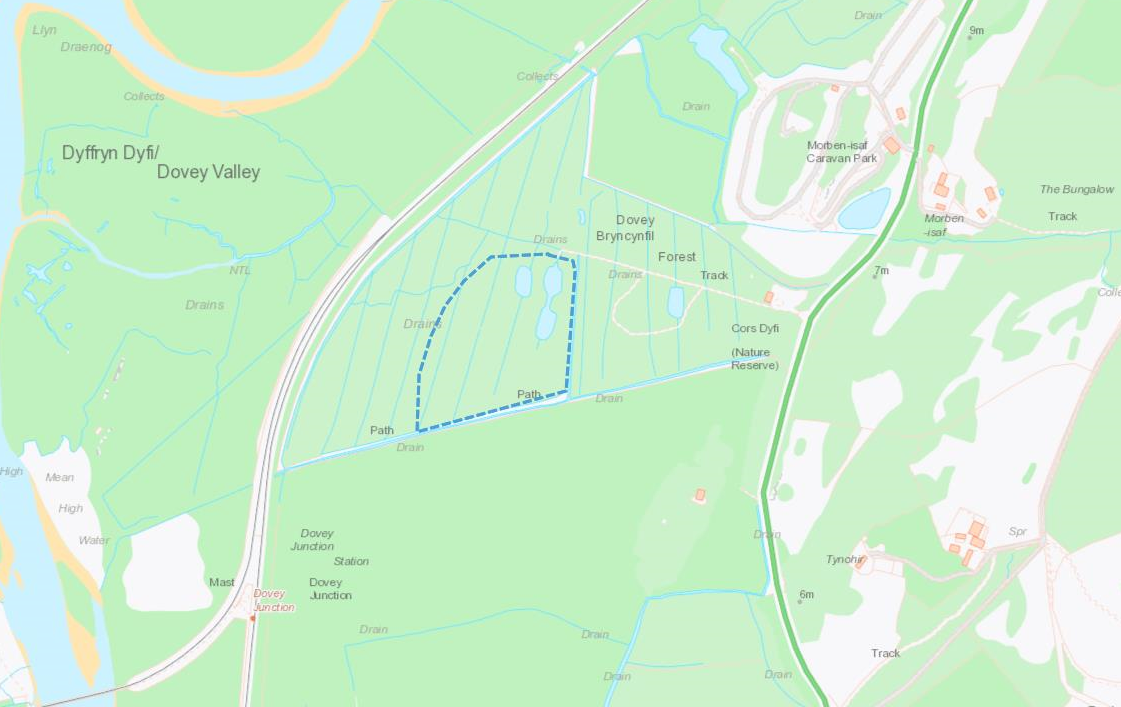 A licence is required as Section 14 of the Wildlife and Countryside Act 1981 prohibits the introduction into the wild of any animal of a kind which is not ordinarily resident in, and is not a regular visitor to Wales in a wild state, or any species of animal or plant listed in Schedule 9 to the Act. Eurasian Beavers are listed under Schedule 9 part 1B.
The licencing of beavers is to help ensure that any lawful release will be undertaken in an appropriately controlled and managed way, allowing Natural Resources Wales to take in to account benefits and risks posed to biodiversity, animal welfare, land/property owners and waterways in our licensing decision.
The objectives of this application are:
To release beavers into a secure enclosure at the Cors Dyfi Wildlife Centre in order to provide vital scrub management on the reserve.

To increase the general awareness and knowledge of the natural history of the beaver and their potential impacts on riparian and wetland habitats within the local community, stakeholders and the wider public.

To assist the Welsh Beaver Project with the wider strategy for beavers in Wales.