Overview
Natural Resources Wales (NRW) is responsible for the sustainable management of publicly own woodlands and forests of Wales known as the Welsh Government Woodland Estate. As well as providing a valuable timber resource, they are managed for the benefit and well-being of people and local communities who visit them, as well as people who depend on them for their livelihood. This responsibility includes safeguarding their long-term resilience in relation to the nature and climate emergencies,  so that future generations will also be able to enjoy the benefits that they provide. Every ten years NRW reviews the long-term management plans for each forest area known as a Forest Resource Plan.
Alwen Location & Setting
Alwen Forest Resource Plan (FRP) has a total area of 1,382 ha and is predominantly coniferous. Alwen forest partly lies within the Mynydd Hiraethog/Denbigh Moors SSSI and is for the most part nestled between the B4501 and A543 Pentrefoelas to Denbigh road. The Alwen Reservoir forms a prominent landscape feature situated in the southern end of the forest, with Llyn Brenig, a reservoir and visitor attraction, lying immediately to the east of the FRP's boundary. Both water bodies and associated infrastructure are owned and managed by Welsh Water.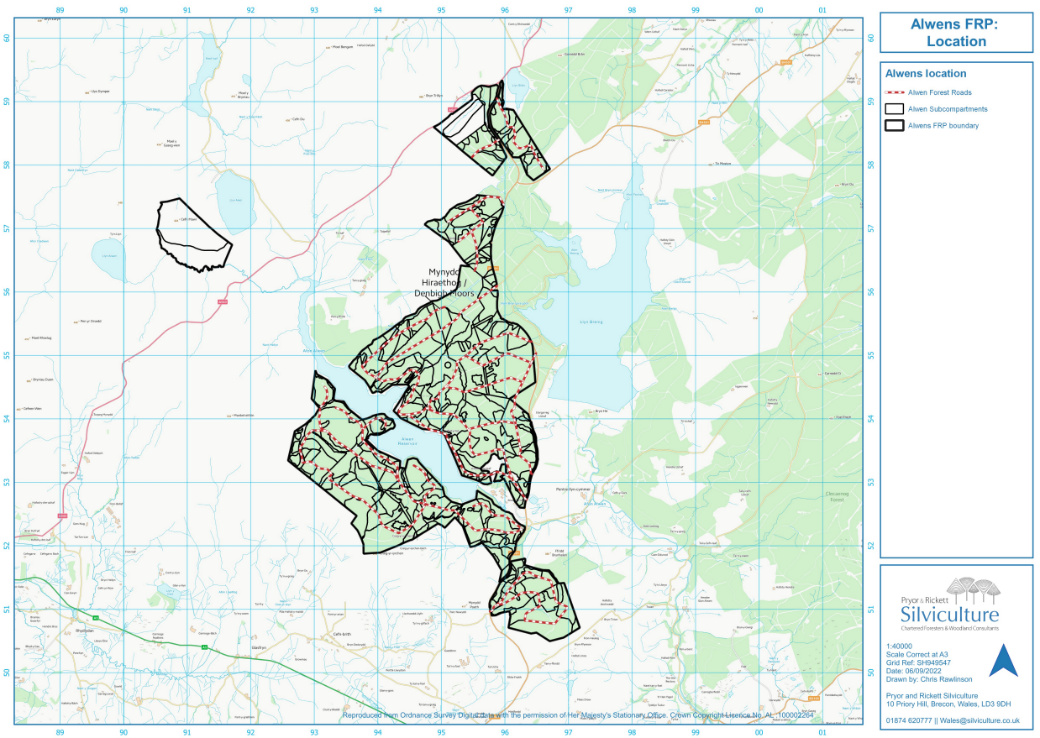 The surrounding habitat of the Alwen FRP blocks consists of enclosed grazed farmland and open moorland, commercial conifer forest blocks, which dominate the higher elevations and mixed conifer/broadleaved woodlands on the lower slopes and riversides. Parts of the Alwen forest are dedicated for open access on foot under the CRoW Act, with the forest also containing a series of footpaths, walking trails and a cycle trail. Access for horse and cycles is allowed on the forest roads on a permissive basis. 
Alwen Forest falls into seven different river catchments as defined by the Water Framework Directive (WFD), which in turn sit within the larger Dee, Clwyd and Conwy catchments
Opportunities and Priorities
Increase structural diversity

and Red Squirrel

conservation

through

n

atural reserve

s,

and Continuous Cover Forestry.

 
Increase the areas managed as peatland bog by conversion from conifer forest

& rewetting open areas.

 
Continue to maintain a sustainable supply of timber production through the design of felling and restock species choice.

 
Increased successional /riparian woodland areas for the improvement of

habitat resilience and landscape scale habitat linkages.

 
Identify and protect

important heritage features

,

including the historic natural

environment.
Continue to

identify and

restore

ancient woodland site features

and areas of

conservation interest.

 
Maintain and improve visitors experience by providing a safe and enjoyable

diverse

environment

.

  
This document helps to explain the categories shown on the maps below:
Summary of the main changes that will occur in the forest
The restoration of ancient woodland sites (6ha) by the removal of conifer and the creation of native broadleaf habitat.
An increase in broadleaf woodland habitat from 7.5% to 10% of the forest area.
Reduce Sitka spruce cover from 56% to 47% by the end of the FRP period.
The restoration of 90Ha of afforested land to deep peat habitat. Which includes 46.7 ha of open habitat and 43.3 ha of successional woodland.
Increase of open land habitat to 16% of the FRP area.
A drop-in session will be held at Canolfan Addysg Uwchaled, Cerrigydrudion, from 3.30-7.30pm on Wednesday 7 December 2022 to allow members of the public the opportunity to discuss in person with NRW forest planners.