Overview
Natural Resources Wales is moving forward with a scheme in Ammanford to manage flood risk from the rivers Loughor, Marlas and Lash.
We predict that 223 properties in the town are currently at risk of flooding. There is a 1% chance of this happening each year during an extreme flood event. The effects of climate change see this number rise to over 380 properties at risk of flooding.
The areas of the town most at risk are Bonllwyn, Aberlash Road, Tir-y-dail, Gwyn Fryn and Shands Road.
Carmarthenshire County Council has asked us to consult the local community on the landscape design and tree planting we are proposing at Bonllwyn Green, off Old Road, as part of the flood scheme. This is your opportunity to comment directly to us on our proposals before work starts at the green.
We have removed trees elsewhere on the scheme to allow construction of the flood walls and embankments, and to provide access in some places for future maintenance of the river. We designed the scheme to retain trees wherever possible. For every tree that is unavoidably removed or coppiced (a pruning technique where a tree or shrub is cut to ground level, resulting in regeneration of new stems from the base) to allow the flood scheme to be built, we will be planting two or three  new trees in the area. Bonllwyn Green was identified by the council as a potential area for planting some of these trees, therefore we have asked a landscape designer to come up with a vision for the whole park that includes these extra trees.
* For a larger version of this image please right click on the image and open in a new tab.*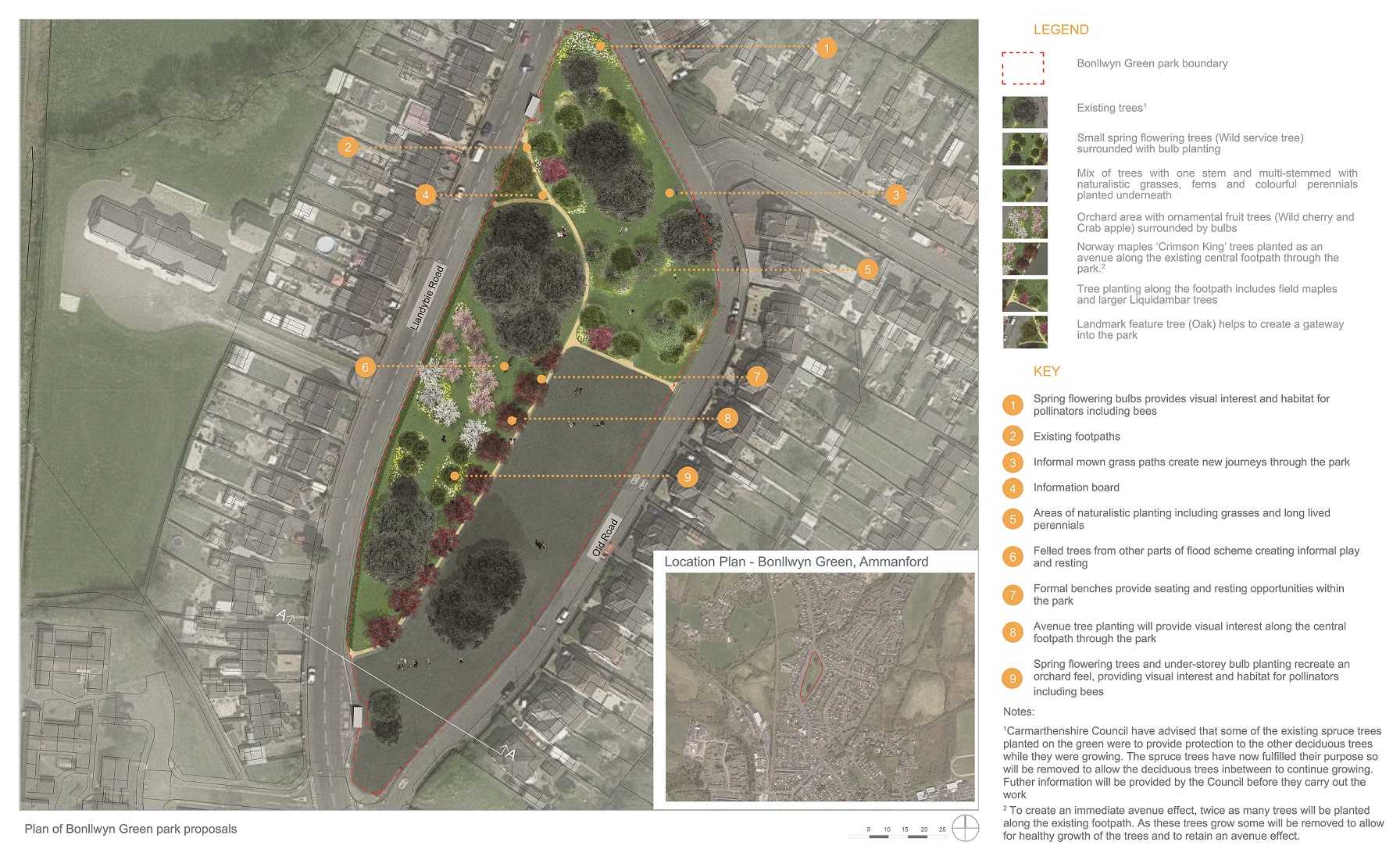 The Design for Bonllwyn Green
The vision for the green is to create a highly valuable green space in the heart of the residential area. A park where local residents can step out of their front door and experience a sanctuary, rich in wildlife.
The recent turbulence of Covid-19 has taught us that people value nature now more than ever before. Access to nature within an urban setting is important for people's health and well-being. It reduces stress, encourages physical activity and enhances community by providing a place where people can meet, rest and interact with one another.
The green will keep the existing features of the footpaths through the park and benches will be added to encourage people to rest and enjoy the green space. The existing areas of grassland and groups of trees will be supplemented with additional planting, to create three key areas.
* For a larger version of this image please right click on the image and open in a new tab.*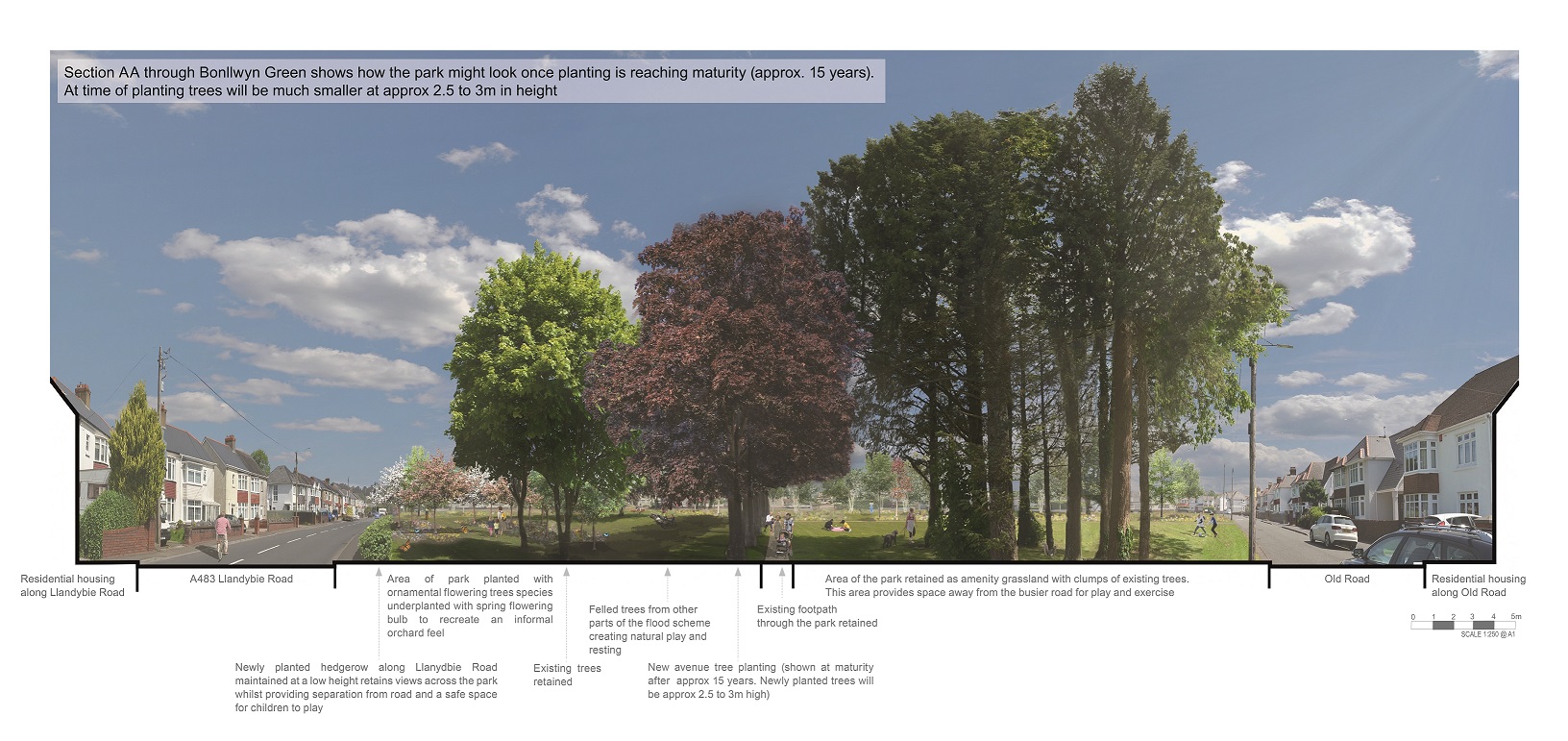 1. Avenue tree planting along the existing path from the bus stop in the south through the centre of the park.
The area of open grass next to Old Road will remain the same, as this area has less traffic and will help to provide a safe space for young children away from the busier Llandybie Road.
2. An area along Llandybie Road inspired by orchards.
Ornamental fruit trees will provide benefits to birds and pollinators, such as bees, as well as create an attractive area within the park. Swathes of spring flowering bulbs planted around the base of the trees with mown grass paths will also help to recreate the look and feel of an orchard, whilst providing informal spaces for people to rest and spend time in the park, surrounded by nature. A new hedgerow planted along Llandybie Road will help to filter out pollutants from the surrounding roads and create a safe space for play.
3. An area to the north of the park inspired by an urban forest.
This area will be filled with trees and plants that offer a quiet space where people can reconnect with nature. Under the trees will be a mix of tall grasses, ferns and long-lived perennial plants. The plants will give year-round visual interest as well as benefit wildlife.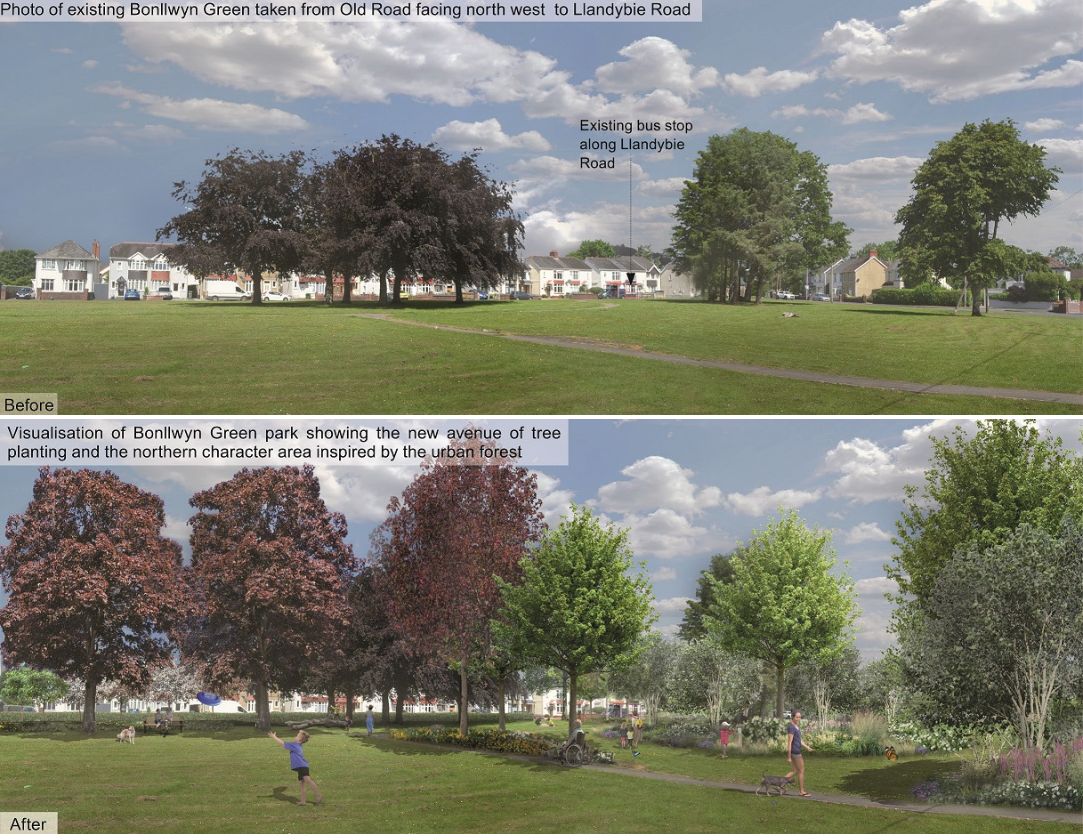 Give us your views