Overview
In March 2021 the First Minister announced his intention to create two new woodlands, to act as a memorial to all those who sadly lost their lives in the Covid-19 pandemic, and the way society in Wales has coped with the threat of Covid-19.
Natural Resources Wales and National Trust Cymru are privileged to be working in partnership to support the Welsh Government's commemorative woodlands project.
Initially two new woodlands will be created, one in North and one in South Wales, although more may be announced in the future.  
We're pleased to share with you our intention for these new woodland sites to be at Brownhill, in Carmarthenshire and on the Erddig estate in Wrexham.
The Commemorative woodlands will be a symbol of Wales' resilience during the pandemic and one of regeneration and renewal as the new woodlands grow. They will be places of commemoration where families and friends can remember lost loved ones and where the public will be able to reflect on the pandemic and the huge impact it has had on all our lives.
As with all new woodland creation, they will be subject to the necessary approval processes. The woodlands will be designed to be resilient to the threats of a changing climate, pests and diseases and will be managed to provide wellbeing, environmental and economic benefits to the people of Wales in perpetuity.
Communities will have the opportunity for ongoing engagement with the sites, both in shaping the plans and being involved in planting and ongoing management. Our vision is for the woodland spaces to be commemorative in their entirety and we do not intend to individually dedicate trees. This is because woodlands are dynamic, living systems that are actively managed. In order for them to thrive we will sometimes need to remove trees to make space for the woodland to mature and to ensure it is safe. As part of the wider consultation in the coming months, we will be asking for suggestions for ways individuals could be remembered at both woodlands.
Woodland Creation
Woodlands deliver a wide range of benefits – from helping us to tackle climate change by locking up carbon, to providing valuable habitats for plants and wildlife, providing outdoor recreational spaces for people to enjoy and generating employment and supporting rural livelihoods through their aftercare and active management.
By increasing the rate of new woodland creation and tree planting in Wales we can support the efforts to tackle both the Climate and Nature Emergencies through supporting decarbonisation and the sustainable management of natural resources.
The commemorative woodland project forms part of the Welsh Government's National Forest Programme. The National Forest will comprise a network of publicly accessible woodlands under high quality management across Wales, to include both new and existing woodlands. Community engagement will be at the forefront of the development of National Forest sites to help ensure the woodlands provide opportunities for recreation, education, and exercise and in this case, also a place for reflection to remember those lost to Covid-19.
When creating new woodland, it is important to ensure there are no adverse environmental impacts, which includes consideration of the imapcts on local communities, and that any sensitivities are recognised and treated appropriately. All our plans will follow the procedure for Environmental Impact Assessment, to ensure the right people are consulted and the new woodlands have a positive impact on the local environment and local communities. The new woodlands will be managed to meet the UK Forestry Standard and UK Woodland Assurance Standard.
Short Summary of Erddig Site
National Trust Cymru is proud to care for nature, beauty, and history for the nation to enjoy. At Erddig Hall in Wrexham, it is our intention to provide nine hectares of land at Hafod, on the southern edge of the estate, for the commemorative woodland.
The woodland will provide opportunities for greater public access and will play an important role in supporting nature's recovery and our fight against the climate crisis. The site will be designed with tree species that will be able to adapt to the threats of pests, diseases, and a changing climate, and along with woodland creation will include other vital habitats for wildlife such as ponds, hedgerows, and meadows.
Over the coming months, we will be working in partnership with the Welsh Government, Natural Resources Wales, communities, and stakeholders to explore ideas, engagement, and planting opportunities for this special place to benefit local residents, visitors, and nature.
The site for the woodland creation is the northern section of a 14-hectare block of land that is not contiguous with the Erddig Hall estate.  It comprises three fields that are bordered by mature hedges, comprising mainly of hawthorn.  There are dips and hollows in the ground that can hold water including a large pool of open water in the southern most field. 
The site lies adjacent to a country park, Bonc yr Hafod that is designated a Special Area of Conservation, primarily due to the high population of Great Crested Newts found there.  Previously this country park was the disused coal mine at Hafod.  The village of Johnstown (in the county borough of Wrexham) forms part of the old coal mining community of Rhosllannerchrugog and is situated immediately west of the proposed new woodland.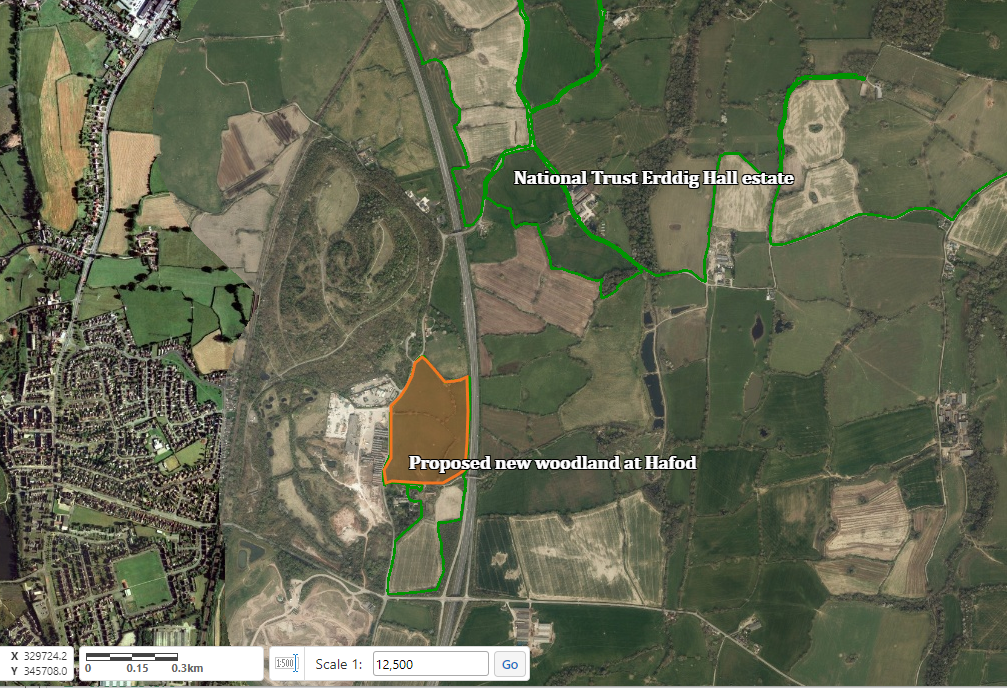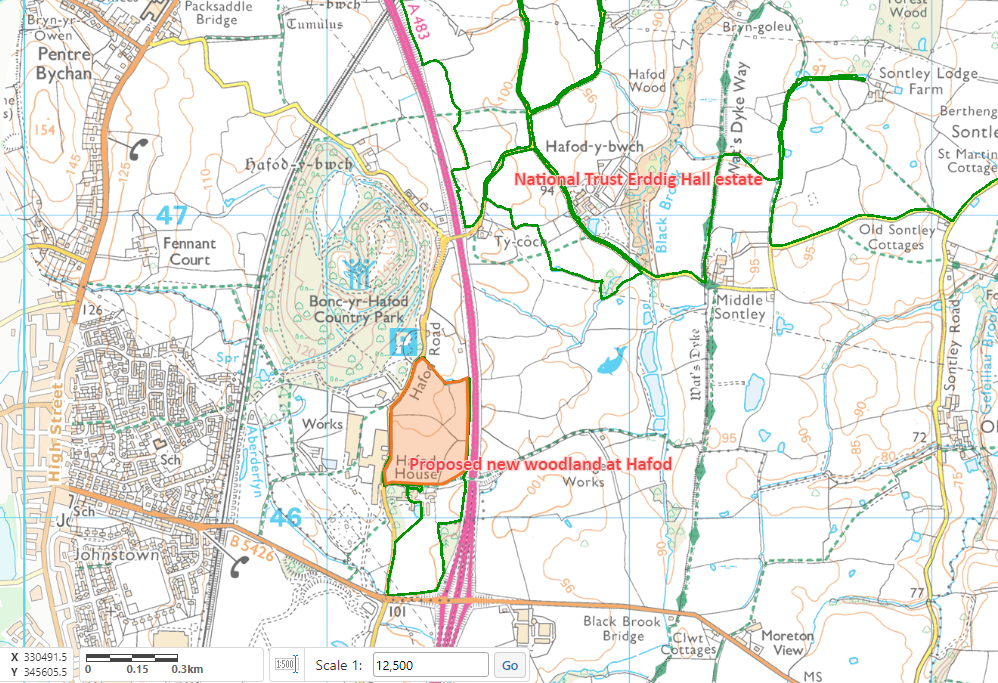 Short Summary of Brownhill Site
The site at is 94ha and consists mainly of agricultural land, ranging in quality. It is predominantly flat floodplain land.
The better ground to the North of the site has been used for silage/hay and grazing, while the remainder tends to be wetter ground and has been used for grazing. The fields are divided by hedgerows, some of which are mature and some more recently planted, with mature and veteran hedgerow and in-field trees (mainly Oak).
To note, the land was sold as five lots of which we secured three. The remining two consisted of a higher proportion of good quality agricultural land. The three we secured all included a proportion of rougher and/or less accessible ground, less attractive for agricultural purposes.
The site includes features of an active floodplain such as oxbow lakes and river channels which support alder carr and standing water. The site straddles the Tywi (SSSI and SAC designated). To the East of the main river and larger channels access is poor, the land has been left fallow and is regenerating riparian woodland.
Our intention is to create a diverse, predominantly broadleaved woodland. This will include elements of wet woodland, riparian woodland, and wood pasture alongside more traditional woodland planting. As with all new woodland this will include open space. This will be maintained around the watercourses, mature hedgerows, and veteran trees to protect and enhance these features. We also intend to create access routes and will be seeking your opinions about other infrastructure you might want to see at the site in future.